Petaluma Pumpkin Patch
The Petaluma Pumpkin Patch and Amazing Corn Maze has over 5 acres of pumpkins, with all produce locally and sustainably grown by 4th generation Petaluma Farmer Jim Groverman. From small pumpkins to giant pumpkins we have one of the best selections of pumpkins in Sonoma County. Wander our fields to find your perfect Halloween pumpkin or choose from the pumpkins that are on display.
Pumpkin Varieties & Sizes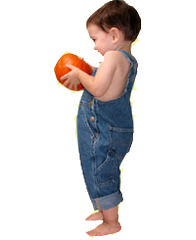 We have over 50 varieties of pumpkins, squash, and gourds. We usually plant over 35 varieties of pumpkins. Bet you didn't know that there were that many pumpkin varieties. We enjoy switching up each year what we plant to keep our selection fresh and intriguing to returning customers. We have pumpkins for cooking, carving, painting, and decorating.
We have pumpkin sizes for everyone and every fall or Halloween idea: from 1/4 pound pumpkins to over 125 pound pumpkins, you have one of the best selections of pumpkins in Sonoma County.
Covered Snack Area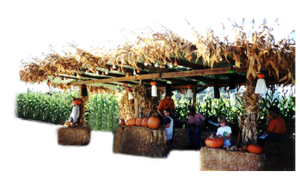 For your enjoyment we have a beautiful covered snack area for picnics, snacks, and spending time out of the sun. There are several covered seating areas with picnic tables or hay bales available and our roof is covered in corn stalks.
 Jack-O-Lantern Pricing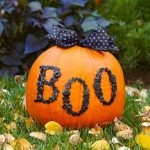 Prices begin at $1.00 and depend on size and shape and are priced accordingly. We have one of the best selections in Sonoma County.
We have many different varieties and sizes of pumpkins that will make wonderful Jack-O-Lanterns.Some people like tall pumpkins and other like fat and squat pumpkins for their pumpkin carving. Our pumpkins are fresh and locally grown so that they keep well and will be a great decoration for Halloween and Fall festivities.
 Giant Pumpkin Pricing
Our giant pumpkins are considered overweight pumpkins and are priced by size, balance, shape, and stem quality. Our giant pumpkins wont' fit in a wheelbarrow, so gather your pumpkins and just ask for help in lifting the giant pumpkins and we will load them into your car or truck.
Petaluma Pumpkin Patch Hours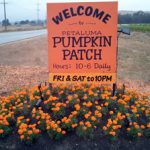 Opening day is the last Friday of September every year and we close the Petaluma Pumpkin Patch on November 1.
We are open from 10am to 6pm Sunday through Thursday and 10am to 10pm on Friday and Saturday to enjoy the pumpkin patch and the Night Maze.