Get Lost in the Family Fun
The 4 acre Amazing Corn Maze offers everyone a challenge, young and old alike. Think of walking through 10 foot tall corn stalks and there is only ONE WAY OUT! With only one way out the course usually takes at least 45 minutes to complete. This year we have added 2ND STORY VIEWING PLATFORMS INSIDE THE CORN MAZE!
Admission to the Amazing Corn Maze closes 30 minutes prior to closing each day. Check our weather page for up to the minute weather. The Amazing Corm Maze, for safety reasons, maybe closed during wet weather conditions. We update the Petaluma Pumpkins Facebook page regularly if hours of operations may need to change due to weather.
Corn Maze Rules
Do not take shortcuts between the corn stalks.
Do not pick corn cobs or break corn stalks (the corn is not edible).
No running.
No child under 15 is allowed in the Amazing Corn Maze unless accompanied by an adult 18 years or older for the entire maze experience.
Do not throw corn cobs or corn stalks.
Do not litter.
No smoking.
Please no strollers inside the maze.
No scary masks are allowed in the maze.
Enjoy your Amazing Corn Maze experience. Maps are available of the Amazing Corn Maze to help you with traversing the corn maze and getting the advantage over friends and family. We look forward to seeing you and your family at the Petaluma Pumpkin Patch and Amazing Corn Maze!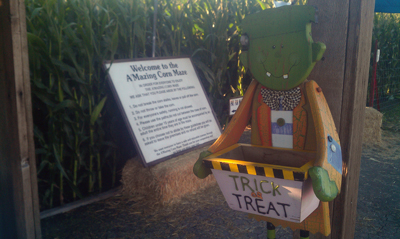 Corn Maze Admission
Day Maze-Monday through Sunday 10am-6pm (enter by 5:30pm)
5 years and under FREE
6 years and over-$6.00
Colored Aerial Postcard Maps-$1.00
Farmer Jim Personally Designs a New Amazing Corn Maze Each Year!
Friday and Saturday night-NIGHT MAZE!
6pm to 10pm-$9.00 (entry closes at 9:30pm)