Petaluma Pumpkin Patch Story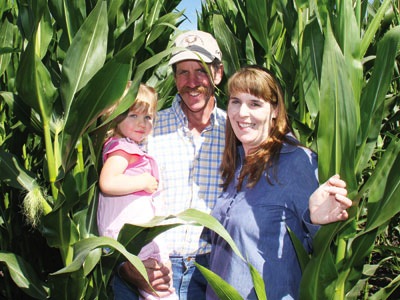 As the owner of Sonoma County's most popular roadside attraction the Petaluma Pumpkin Patch and Amazing Corn Maze, Jim Groverman, the farmer who is the inspiration behind the Highway 101 corn maze, has been doing what Groverman calls "Agro-Tainment" long before the word "agritourism" became part of the farming industry and a way to survive in the farming today.
Urban and local visitors, hungry for a taste of country, come as much for the farm experience as they do to buy pumpkins and gourds while also experiencing a challenging Corn Maze. For the last 20 years, Groverman's Petaluma Pumpkin Patch and Amazing Corn Maze, on the west side of Highway 101 north of Petaluma, has attracted thousands of visitors each September through October.
The corn maze isn't just an October phenomenon. The maze's rise and fall is monitored by thousands of motorists every day throughout the year. Groverman's Corn Maze is a source of  observation and community pride. The good news and bad news is slowing traffic along Highway 101 gets intense in starting in spring when the land is prepared and the seeds planted. Motorists check out the growth of the corn stalks as they sprout, grow through the summer and by fall reach more than 10 feet tall.
The Petaluma Pumpkin Patch and Amazing Corn Maze closes the first day of November, the maze disappears for another year. The cornstalks are cut and chopped for silage to feed dairy cows. The cycle is complete. Jim and  Cindy Groverman, along with daughter Kimberly, offer the North Bay's increasingly urban and suburban population a chance to revel in the beauty of autumn by getting lost in the four-acre corn maze, picking the perfect pumpkin, climbing over hay bales or rummaging through bins of grotesquely-shaped gourds.
The farm animal displays, hay stacks and home-baked goods sold by fresh-faced 4-H club members complete the picture, making Groverman's farm a full farm experience each September and October. Groverman says, "What we are doing is what makes this operation work so well, it's letting people have fun.  A lot of town people are looking for something to do on weekends, a place to take their kids so they can run around in the country. We are offering them that opportunity." The corn maze also has been used by corporations for employee team-building maneuvers. Brides, that enjoy pumpkins and Halloween, have rented the Pumpkin Patch for October weddings.
Visit Petaluma Pumpkin Patch & Amazing Corn Maze
Corn Maze and Farming Roots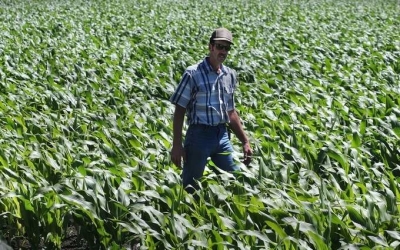 Groverman would rather just be on his tractor farming, leaving the entertainment aspect to other people. But he knows in an area like Sonoma County and the greater Bay Area he just can't grow corn and pumpkins and make a living. He has to offer an agricultural experience to bring the crowds that will pay to literally get lost in his corn maze. The corn maze is Groverman's evolving masterpiece, a four acre piece of living art created from the planting of more than 150,000 corn seeds. Every year he designs a maze that is challenging but not impossible or defeating. "It's a true maze.
There is only one way in and one way out," said Groverman. "There is no set pattern. That's what keeps it interesting and challenging. People keep coming back because it's different every year." The maze's basic concept is four spokes with six trails each. Even as the maze's mastermind, Groverman admits he gets lost occasionally amid the tall cornstalks.
He is proud of the roadside attraction he has built over the last 20 years and the pleasure it brings to families. But deep down he admits he is a farmer a heart. "I like growing the best. That's the most rewarding part of what I do in this business," said Groverman, a fourth generation Sonoma County farmer. As a relative of the Peterson farming clan, Groverman grew up watching busloads of kids arrive on the family ranch on Peterson Road in Sebastopol to pick pumpkins. Perhaps that sparked his interest in farming but it's more likely that the urge to plant, grow and harvest is part of the DNA passed down by his agricultural ancestors.
Like his pumpkins and corn, Groverman is a Sonoma County native. He is the second of four children of Dr. Fred Groverman, a veterinarian and internationally-recognized Shropshire sheep breeder, and the late Pat Groverman, who for years was a fixture at her son's pumpkin patch and corn maze. Groverman grew up on his family's 52 acre sheep ranch in Petaluma where chores were part of the daily routine.
He began tending livestock and planting crops as kid. He raised pheasants and parakeets, planted pumpkins and shallots and at 9 years old was milking his own cow and making homemade ice cream from the rich cream. He was a member of the 4-H and FFA, showing sheep, hogs and dairy cattle at the fairs. He graduated from Petaluma High School in 1981 and then studied at Santa Rosa Junior College before transferring to Cal Poly, San Luis Obispo where he earned a degree in dairy science. When he returned to Sonoma County, he worked at various jobs on area ranches while getting his farming business going.
Today, in addition to the Petaluma Pumpkin Patch and Amazing Corn Maze, he farms 15 acres of pumpkins on his father's ranch in Petaluma and grows hay and silage crops on 110 acres of leased land. When not farming he is atop his horse doing team roping or hunting, his two passions. Groverman grows a variety of pumpkins. Many are sold at the Pumpkin Patch but the rest are sold throughout the Bay Area and shipped out of state to places like Wyoming where the growing season is too short to produce pumpkins.
Visit Petaluma Pumpkin Patch & Amazing Corn Maze
Have a happy and safe Halloween-The Groverman Family